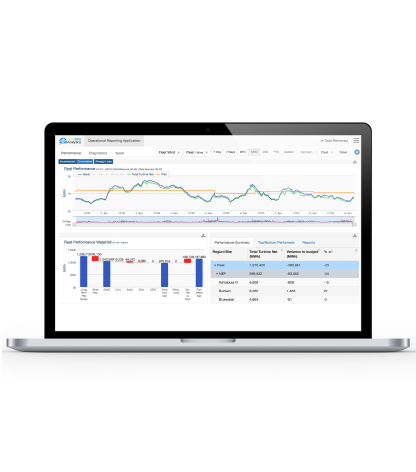 Performance Assessment, Monitoring & Reporting
Our tools provide insight to facilitate operational improvements of renewable assets.
Resource Performance
Operational Reporting Application (OpsReport)

Our Operations Report visualizes fleet, regional and site-level wind and solar plant generation performance compared to budgeted and weather-adjusted levels. It provides turbine/inverter-level diagnostics with drill down capabilities to identify performance issues.

Generation Entitlement (GenE) patented process

Our patented process provides an automated daily measurement of expected generator output given the observed wind/solar resource and atmospheric conditions.
The process provides turbine/inverter-level diagnostics, gross and loss quantification, and identification of sub-optimal performers via a web-based delivery platform.

Key Performance Indicators

Using sophisticated statistical models and high-resolution data, asset performance indicators (Wind and Solar Energy Index, Performance Index, Subcurve Index, Production Index) provide insight into the observed resource and asset performance, and facilitates operational improvements.

Operational Assessment (OpA) Process

We predict gross energy production and use advanced statistical modeling to provide a gross energy forecast for the remaining life of the renewable asset. 
Assessments are completed using actual operational data and therefore are more accurate and less uncertain than pre-construction energy assessments.
Equipment Performance
Solar Energy Yield Testing

Measured on-site meteorological data, including irradiance and temperature, are used in conjunction with agreed upon solar energy models to test solar modules performance relative to inverter and full plant energy yield.

Wind Power Performance Testing

Testing uses wind turbine operational data and independent wind speed readings from hub-height met towers or remote sensing devices to validate turbine performance relative to the manufacturer's stated power curve.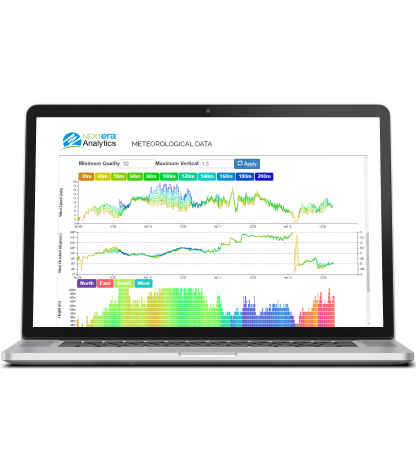 Field Data Management
Field data management ensures receipt of quality data from meteorological measurement devices.
Wind Meteorological Tower, SoDAR, LiDAR, Solar Meteorological Stations
Meteorological equipment is used to support project greenfield development and commercial operation for both wind and solar projects.  Our field data management system provides a platform for receipt and storage of meteorological data and allows for real-time quality assurance processes to ensure quality data for use by our analysis teams.
Our team has an in-depth understanding of industry-standard equipment within a meteorological measurement system including system design, integration, data acquisition and monitoring.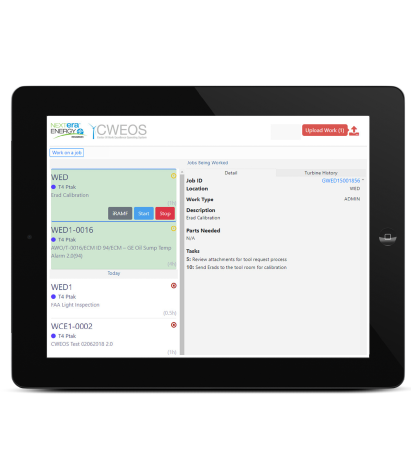 Work Schedule Optimization
Our mobile-enabled platform provides an optimized work schedule to wind, solar and battery sites for efficient job execution.
The optimized work scheduling solution provides site leaders and technicians real-time asset maintenance information through a high-performance, cost-effective, mobile platform.
Our sites use this to manage ongoing operations and maintenance to avoid revenue loss through inefficient use of staff and resources.
The solution enables lost revenue reduction by optimizing work prioritization and tracking, leading to faster return to service for assets.