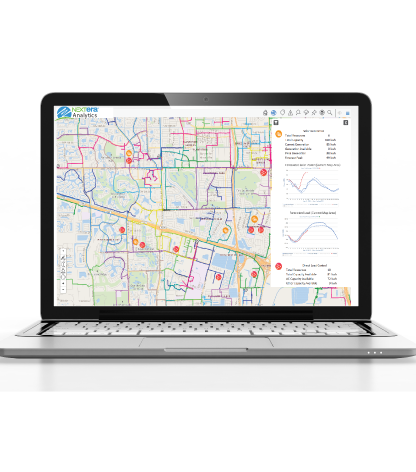 Power Delivery
We deliver data and analysis to help maintain grid reliability. Our Power Delivery solutions and user-friendly interface give field crews and operations engineers smart grid awareness and the data analytics they need to reduce power interruptions, outage restoration time and unnecessary truck rolls.
GridLogic Vision
The GridLogic Vision application covers multiple aspects of power quality analytics, outage mitigation, detection, restoration and reliability reporting.
Outage Management & Analysis  - Restoring power safely and efficiently is key to customer satisfaction.

Our solutions proactively generate accurate trouble tickets using smart meters and manage outages during the restoration process.
Our outage management tool puts the power of the smart grid into the hands of restoration crews.
With network topology, trouble tickets, real-time smart meter outage integration, weather information, routing, crew locations, and more, utility personnel have real-time mobile and spatial situational awareness tools to enhance the restoration process.
Equipment Failure

Moving from a reactive to a proactive organization requires utilities to leverage technology and advanced analytics.
Power outages and poor power quality impact reliability, customer service and costs. Utilities have a growing portfolio of data from substations, distribution automation devices and smart meters.
Using machine-learning techniques for anomaly detection, our solutions extract actionable intelligence from these data sources to help prevent and/or reduce the impact of power quality issues and outages.
Topology Correction

As smart meter technology automates more systems, processes like outage management and proactive customer communication rely heavily on an accurate network topology model.
The accuracy of the GIS connection between a premise and its transformer is something utilities have struggled to correct for years. Errors can cause safety issues, restoration delays, inaccurate customer communication, and invalid transformer-level analytics.
Using information from smart meters along with our advanced algorithms, utilities can now automatically correct errors without the need for an outage. 
AMI Operations Alerting

Monitoring your AMI network health can identify opportunities to reduce the impact of customer claims and improve outage management response. Our solutions detect hot socket issues, AMI network device health and battery monitoring, outage reporting metrics (receipt rate and latency), billing read performance, and unread meter reporting.
Load Forecasting - Accurate demand forecasts are integral to reliable, low-cost operations of the utility grid. We provide more accurate and granular forecasts to power delivery engineers, field crews, retail energy providers and load serving entities.

Customer Reliability Reporting

Having a view into the customer experience is critical to understand the impact of power quality and outage-related issues. Our MAUI platform delivers historical voltage, consumption, and power quality meter event data to help restoration crews identify and correct problems as soon as possible.

Storm Damage Modeling

Restoring power as quickly as possible after a major storm is the goal of every utility. Understanding the storm impact and the potential damage allows the utility to stage the appropriate restoration force to minimize the impact to customers. Our storm damage models use the utility asset database, various storm track and intensity inputs to predict the man-hours needed to restore all customers.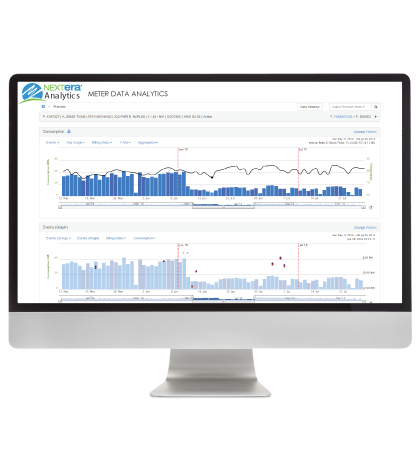 Customer Service Operations
Our data provides insights that help manage revenue. We provide utilities with insights on their customers, enabling targeted marketing segmentation to electrical theft leads. Our Customer Service Operations applications detect usage anomalies that may impact your revenue streams.
Theft Detection
Electrical theft can result in millions of dollars in lost revenue each year. Our revenue protection solutions detect multiple types of electrical theft using advanced metering infrastructure data signatures.
The interface makes it easy to dispatch "theft leads" to field inspection crews, and provides immediate access to customer data, trends, and aggregations for transformer or feeder level diagnostics.
Billing Exception Detection
Incorrect customer invoices can lead to lower customer engagement. Our billing solutions detect anomalous bills before they're sent to customers.
The user interface tools allow billing analysts to quickly evaluate multiple usage streams to allow or release invoices.
Faulty Meter Alerting
A malfunctioning meter can have many downstream impacts including improper billing, spurious data collection, expensive consumer warranty claims and missed outage communication.
Our faulty meter solution automatically detects failing meters using state-of-the-art anomaly detection techniques and alerts proper personnel for replacement.